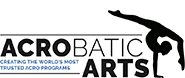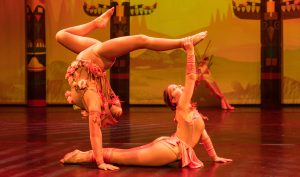 Acrobatic Dance, or 'acro' (as it is commonly referred to by dancers and dance professionals), is the beautiful fusion of classic dance technique and the precision and athleticism of acrobatic elements. Acro technique includes balancing, limbering, tumbling and partnering, based in flexibility, contortion and strength.
All of our Acrobatic Arts teaching team: Miss Zoe, Miss Laura, Miss Emma & Miss Karen are Certified Teachers with Acrobatic Arts and Centre Stage is both a Certified UK Studio for Acrobatic Arts and an Official AcroPAD Centre.
Acro has gained popularity recently with the widespread success of contemporary circus productions and mainstream  dance television programs, which have fuelled its demand in amateur competitive dance and studio settings.
The Acrobatic Arts syllabus was developed with input from professionals and experts in ballet, modern dance, jazz, contortion, artistic gymnastics, rhythmic gymnastics, sport acrobatics, yoga, acro yoga and pilates.
The syllabus consists of twelve levels with easy progressions. Students can also work through an examination process designed by the Acrobatic Arts to motivate dancers to achieve. Dancers work through twelve exam levels, each designed to create a well balanced acrobat, including elements of flexibility, strength, balance, limbering and tumbling.
Acrobatic Arts certified Examiners travel to our studio for exams and evaluate dancers against a set universal standard, allowing dancers and teachers to see where the dancer stands globally. During the exam, students can expect a class setting with the examiner directing the class and making notes throughout. Required elements will be critiqued and scored by the examiner. The exam will be graded 'Superior', 'Excellent', 'Highly Commended", 'Commended', 'Pass' or 'Retry' based on the scores achieved for each element as well as grooming and attitude.
Students who complete the level they are being tested for will receive a certificate to commemorate their achievement. Students who receive a grade of 'Superior' will also receive a custom Acrobatic Arts medal. All students will receive a report card complementing areas of excellence and suggesting areas for improvement.
Acro classes are offered from 5 years and up and run on Thursdays. Dancers are split into groups for classes based on age and ability.
Students are taught by certified acrobatic arts teachers and learn proper placement and technique for the foundations of Acro Dance, including handstands, cartwheels, bridges, back walkovers, front chest stands and assisted handstands.